My family has been making these delicious chicken fried pork chops for at least 50 - 60 years. I know I've cooked probably a million or more chicken fried pork chops and with homemade mashed potatoes, gravy, and homemade biscuits you have a meal you won't soon get over.
If you click those links you'll find some of my very best recipes. If your interested in cooking delicious southern items like fried chicken, cream gravy, mashed potatoes, and homemade biscuits then you need to click those links and check out these delicious recipes.
Double Crunch Honey Garlic Pork Chops
If you look at the photo above and your mouth starts to water then you need to read on about this oh so wonderful way to make chicken fried pork chops.
I suggest starting with six center cut loin bone in pork chops. Let me tell you the pork chops with the bone in them will always taste better than boneless pork chops. Yes the flavor is so much better with the bone in pork chops.
Ingredients For Your Pork Chops
You will want to get started by sifting together the below ingredients.
1. One Cup All Purpose Plain Flour.
2. One Teaspoon Ground Sea Salt.
3. One Teaspoon Ground Ginger.
4. One Teaspoon Ground Nutmeg.
5. One Teaspoon Ground Thyme.
6. One Teaspoon Ground Sage.
7. One Teaspoon Ground Cayenne Pepper.
Sift the above ingredients together very well and put all your sifted together ingredients into a large bowl.
Now mix together four large eggs and a cup of milk. Whip it together very well.
Heat a couple of inches of vegetable oil in a large skillet until the oil is hot but not smoking. You want your oil hot enough to brown your pork chops but not burn them. I suggest using a heavy skillet so your pork chops will not burn easily.
Put your pork chops first in the milk and egg mixture and then into the flour mixture. Now they go back into the milk and egg mixture and then back into the flour mixture. They are going to be double breaded. Be sure they get very well breaded before you fry them in the hot vegetable oil. Fry them on one side until they are good and brown and then flip them over and brown them to done on the other side.
Make the below Honey Garlic Sauce and dip your cooked pork chops into the prepared Honey Garlic Sauce.
Ingredients For Honey Garlic Sauce
1. One Cup Soy Sauce.
2. One Tablespoon Minced Fresh Garlic.
3. One Cup Honey.
Mix the ingredients for the Honey Garlic Sauce in your blender and then cook it in a sauce pan until almost boiling and then remove from the heat. When your pork chops are fried dip them into the Honey Garlic Sauce and then place on a serving dish.
I guarantee you that you'll have some of the best pork chops you'll ever eat in your life. Yes they really are that good. The flavor is just perfect. Give these delicious pork chops a try and see what you think.
Make This Recipe With Chicken
You can if you wish make this recipe with chicken and it's oh so wonderful. I use chicken thighs that I have removed the bone and skin from and flattened out with a metal meat hammer. Chicken Thighs have so much more flavor than chicken breasts. Try this recipe with the chicken thighs and I bet you'll love it.
Click Here For More Great Recipes!
Click Here For Another Of My Wonderful Pork Chop Recipes
The Best Chili Recipes In The World
Click Here For The Worlds Best Chili Recipes
Click Here For Wonderful Texas Chili Recipes
Rosemary Rubbed Pork Chops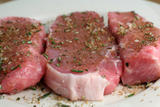 I use large thick pork chops for this recipe and I use bone in pork chops because they have much more flavor than boneless pork chops.
Ingredients Needed For Your Rosemary Rubbed Pork Chops
1. Two Teaspoons Olive Oil For The Pan.
2. One Tablespoon Dry Crumbled Rosemary.
3. One Tablespoon Brown Sugar.
4. One Teaspoon Ground Cumin.
5. One Teaspoon Ground Sea Salt.
6. One Teaspoon Black Pepper.
Place your pork chops onto a flat surface and then sprinkle them well on both sides with all your ingredients above. Rub the spices and brown sugar into the pork chops.
You will want to put the olive oil into a baking dish and then put your prepared pork chops into the prepared baking dish and cook for about forty five minutes at 350 degrees until your pork chops reach and internal temperature of 160 degrees.
If your pork chops start to get too brown put tinfoil over the pan. Serve your rosemary rubbed pork chops on a bed of cooked sweet potatoes for a delicious meal.
I hope you get to try these wonderful pork chop recipes real soon and I hope you'll share the link to this post with all your family and friends. I hope there are pork chops in your future real soon.
Rosemary and Pork are a great flavor combination. You can rub a pork roast down with rosemary, mustard, salt, and pepper and bake until done. Cut it up in thick slices and serve on toasted crusty bread for a wonderful sandwich. Or use pork cooked this way, boiled ham, lettuce, tomato, and pickles in delicious pressed Cuban Sandwiches I guarantee you everyone will love.