If your looking for a delicious pound cake that's easy to make and delicious then you need to check out this pound cake. It always turns out moist and its oh so delicious.
Ingredients
1 package Duncan Hines Yellow Cake Mix
1 package Instant Vanilla Pudding - 4 servings size
1/2 cup Vegetable Oil
1 cup Water
4 Eggs
If your looking for the perfect pound cake then you just may have found the most delicious pound cake that you'll ever taste in your life. Yes I know it uses a box cake mix and vanilla pudding but guess what. You end up with a pound cake that is going to be one of the best pound cakes you'll ever taste in your life.
Now that's quite a statement isn't it. Yes it is. But guess what? This will be the best pound cake you'll ever taste in your life. And if you make this pound cake for your family and friends they are going to be wondering. Now how in the world did he or she make a pound cake this wonderful.
Instructions
Blend all ingredients in a large bowl, then beat at medium speed for 2 minutes. Bake in a greased and floured 10 inch tube pan at 350 degrees for about 45-55 minutes, until center springs back when lightly touched. Cool right side up for about 25 minutes, then remove from pan.
Blend 1 cup powdered sugar with either 2 tablespoons of milk or 2 tablespoons of lemon juice and then drizzle over cake.
I like to add a teaspoon of lemon zest to my pound cake topping. Be sure to get your lemon zest chopped up very fine. Use fresh squeezed lemon juice so your flavors will be just perfect.
Another Wonderful Pound Cake Recipe, Orange Crush Pound Cake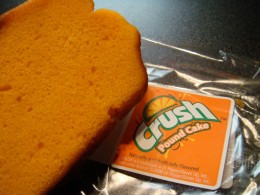 Here's you another wonderful pound cake recipe. The flavor of this pound cake is oh so delicious and tasty. This is one of my favorite pound cake recipes. If your looking for a unique wonderful tasting pound cake this may be just the pound cake recipe for you.