I have people all the time email me and ask how to make freezer jam so in this post were going to cover how to make several different types of delicious freezer jams.

No Cook Black Berry Freezer Jam


First of all were going to make delicious blackberry freezer jam. I suggest purchasing some of the one pint plastic containers with snap on lids that you can put into the freezer.


Ingredients Needed For Your Blackberry Freezer Jam


1. Two Cups Of Blackberries.
2. Four Cups Sugar.
3. Two Tablespoons Fresh Lemon Juice.
4. One Small Package Pectin or Sure Jell.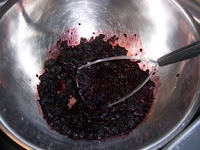 Above Is How You Want To Mash Up Your Berries With A Potato Masher


Crush your berries in a large bowl with a potato masher. Now add your sugar and mix well. Make your pectin or sure jell up by package directions and mix it and the lemon juice together and mix it into your blackberries and sugar. Stir to mix everything up together very well together. Now put the jam in your plastic containers with the lids on tight and let them set up for 24 hours before you put them in either the refrigerator or freezer. Leave a half inch at the top of your containers when you fill the containers.


Above is how your blackberry freezer jam will look like in the plastic containers.


Your blackberry freezer jam will keep in the refrigerator for up to a month. It will keep in the freezer for up to a month.


Strawberry Freezer Jam


To make strawberry freezer jam substitute 2 cups of strawberries cut up in small pieces in place of the blackberries and you can make some wonderful strawberry freezer jam.


Peach Freezer Jam


1. Three Cups Diced Up Fresh Peaches and their juices.


2. Seven Cups White Granulated Sugar.


3. One Small Package Sure Jell Or Pectin.


4. One Third Cup Lemon Juice.


Mash your peaches up very well with a potato masher and then stir in the sugar. Make your sure jell up by the package directions and mix it and the lemon juice together. Whisk the sure jell and lemon juice into the peaches and sugar. Make sure everything is very well mixed together.


Now fill your plastic cartons with lids leaving a half inch space at the top. Put the lids on and allow it to set up for 24 hours before you put it in the freezer or refrigerator. It will keep a month in the refrigerator or up to a year in the freezer. Be sure to label what you put in the freezer so you won't forget what it is.


You can make freeze jam out of almost any fruit or berry. Freezer Jam is just as good as the canned jam and it's oh so delicious.


Now All You Need Are Some Homemade Biscuits