In the photo above we have delicious homemade coconut cake. Oh man that cake is delicious. CLICK HERE for the recipe for the above coconut cake.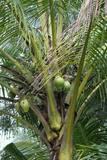 In the photo above are coconuts growing on a tree. Fresh coconuts are oh so delicious.
Coconut Information
The large husk-covered fruit of the tropical palm tree. It's filled with a milky liquid and sweet white meat. The coconut has a hard outer shell that's hairy with three soft spots, sometimes refered to as eyes, on one end of the coconut. Once the shell is broken open, the nut inside has a dark brown skin covering the white, firm-textured coconut meat. Fresh coconuts are at their peak from October through December. Canned, frozen, or packed coconut is sold shredded, flaked, and grated in sweetened and unsweetened forms. Coconut cream, coconut milk, and coconut oil are also available.
Coconut Storage
Store whole coconuts up to a month. Store fresh coconut meat in the refrigerator for 5 - 6 days or freeze it for up to six months.
Unopened canned coconut can be kept at room temperature for up to 18 months. After you open canned or packaged coconut keep it in the refrigerator for 5 - 6 days.
How Do You Crack A Coconut?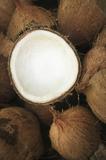 Start by piercing the three eyes of the coconut with a long nail, screw driver or ice pick. Hold the coconut firmly with a towel while your doing this.
Drain the milky liquid. This can be used as a beverage or used in cooking. But don't confuse this with coconut milk. Next place the shell on a hard surface, and gently, but firmly, tap it all around until it cracks and splits open. Break the shell apart with your hands and very carefully cut the white meat from the shell. Peel the brown skin from the coconut meat. The meat can be grated or chopped up fine.And now you know how to get the coconut meat out of the shell.
In the photo above are coconuts being harvested.
Coconut Cream
A rich coconut-flavored liquid made by pouring one part boiling water or milk over four parts coconut meat. The mixture is simmered until foamy, cooled, and then strained. The rich liquid is often used in Asian cooking. You can find coconut cream in the ethnic foods section of your local grocery store.
Coconut Oil
A dense, white buttery oil obtained by pressing coconut meat to obtain the oil that it naturally contains.
Coconut Cream Pie
In the photo above is a delicious coconut cream pie. And below is the recipe for this delightfully delicious pie.
Coconut Cream Pie Recipe
1. 3/4 Cup Sugar Divided.
2. 1/4 Cup Corn Starch.
3. Two Cups Half And Half.
4. Four Egg Yolks.
5. Three Tablespoons Butter.
6. Two Tablespoons Vanilla Extract Divided.
7. One Baked ( 9 inch ) Pie Shell.
8. One Cup Whipping Cream.
9. Toasted Coconut For Garnish.
Combine 1/2 cup sugar and cornstarch in a heavy sauce pan. Gradually whisk in the half and half and the egg yolks.
Bring to a boil over medium heat whisking contantly with a wire whisk. Boil for one minute and then remove from the heat.
Stir in the butter, coconut, and 1 teaspoon of vanilla extract. Cover with plastic wrap and let it cool to room temperature.
When cool pour into your baked pie shell and chill for thirty minutes or firmly set.
Beat your whipping cream at high speed with a electric hand mixer until foamy. Add remaining sugar ( 1/4 Cup ) and the other teapoon of vanilla extract.
Beat until peaks form and then its ready. Spread over your chilled pie and sprinkle with toasted coconut as a garnish.
This is one of the most delicious pies that you'll ever make and enjoy in your life. It is so delicious.
CLICK HERE FOR BEFORE ITS NEWS
Thomas Byers has been an award winning chef for over fifty years now. CLICK HERE to check out his profile at Hub Pages.